Dietetics & Nutrition Services
Food is thy medicine! The nutrition and dietetics team provide individualised, person-centred services to participants of Alliance Rehabilitation to enhance well-being and recovery.
Our dietitians work alongside our talented multidisciplinary team to deliver quality medical nutrition therapy for a variety of health and disability conditions.
All dietitians are Accredited Practising Dietitians (APD) with the Dietitians Association of Australia (DAA) and share a passion for providing tailored, evidence-based support to help you reach your goals.
Services Provided by Dietitians include:
Comprehensive assessment, education, and provision of medical nutrition therapy for a variety of health and disability conditions
Advocacy for best-practice care
Collaboration with involved external and internal allied health services to ensure comprehensive, quality service delivery
Education of family/caregivers regarding therapeutic diet recommendations
Development and timely distribution of resources
Clinical rehabilitation planning as part of the Alliance Rehabilitation team
Participants with the following conditions may benefit from dietetics support:
Disability
Overweight and obesity
Osteoporosis and osteoarthritis
Spinal cord injury
Traumatic brain injury
Stroke and cardiovascular disease
Renal disease/Chronic Kidney Disease
Unintentional weight gain or weight loss
Diabetes Type 1 and Type 2
Malnutrition
Individuals requiring enteral nutrition support
Allergies and intolerances
Inflammatory Bowel Disease (IBD)
Irritable Bowel Syndrome (IBS)
Childhood nutrition
Eating disorders
What is a Dietitian?
Dietitians are tertiary qualified health care professionals, holding a minimum 4 year bachelor degree in nutrition and health science, and are trained to undertake comprehensive assessments of biochemical, physiological and psychological factors that influence eating habits and nutritional status.
Qualified dietitians are trained to provide services within medical nutrition therapy, public health nutrition, group nutrition education, individual dietary counselling, and food service management. Dietitians can provide individual or group based dietary advice to help prevent or manage a broad range of health conditions.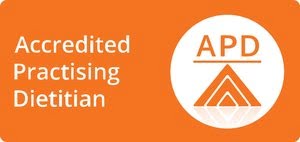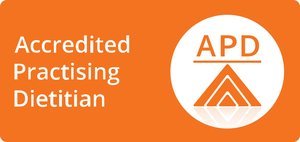 Within Australia dietitians are accredited under the Dietitians Association of Australia (DAA) as Accredited Practicing Dietitians (APD). The term APD can only be used for qualified dietitians who have met specific professional requirements. The DAA has Dietitian competency standards which all new graduate and practicing dietitians must practice within. APD is the only national credential recognised by the Australian Government, Medicare, the Department of Veterans Affairs and most private health funds as the quality standard for nutrition and dietetics services in Australia.
To maintain accreditation, APD's are required to complete continued professional development to ensure their practice is in line with the most current evidence based nutrition and dietetic information.
What is a Nutritionist?
A nutritionist can be the term used to refer to an individual who has completed a university qualification in a variety of areas such as food science, public health, research and policy, and community health. Nutritionists can assist individuals to optimise their health through nutrition and health advice. Nutritionists can volunteer to register with the Nutrition Society of Australia (NSA).
What is the difference between a Dietitian and Nutritionist?
Nutritionist can provide nutrition advice and broad health advice; however nutritionists are not trained in the speciality nutrition and dietary areas that dietitians are. In Australia all Accredited Practicing Dietitians are also Accredited Nutritionists; so being a dietitian involves acquiring skills, qualifications and accreditation beyond that of an Accredited Nutritionist.
Nutritionist, unlike dietitians, are not covered by Medicare health rebates, however are covered by a small number of private health insurance rebates, relative to the rebates available for dietitian services.
Our Services
Alliance Rehabilitation provides a range of health services: