Short-Term Specialist Disability Health Accommodation
Providing Transition, Respite & Holiday Accommodation in state of the art, fully self-contained homes – stay from one day to one year.
The short-term Specialist Disability & Health Accommodation (SDHA) facility will have a modern contemporary design with features and textures to differentiate and contrast the dwellings from the institutional, clinical, atmosphere that residents may have recently left behind. The dwellings will provide residents with privacy while also feeling sufficiently spacious and open so as to be conductive to wellbeing. The use of innovative, modern and evidence based technologies and designs will make the SDHA facility a leading solution in the field.
To provide familiar benchmarks for assessing the suitability of our SDHA against resident needs our facilities and care packages are designed on NDIS guidelines. By meeting NDIS requirements, and using NDIS terminology, coordinators and residents can be confident in the quality and level of care provided by our facility and be able to more readily and transparently compare prices of alternative solutions. Of course, our SDHA is available to residents under more than just NDIS arrangements and we are happy to work with you to customise services to meet your individual needs and provide choice and control.

Development will be designed to exceed NDIS High Physical support SDA, LHA Platinum Level and provide Hydrotherapy Pool Facilities.
Affordable High-Quality Support
The standard level of care and support at Alliance Rehabilitation's SDHA facility is based on NDIS Short Term Accommodation (STA) 1:4 support ratio and our facilities are designed to exceed NDIS requirements for the High Physical Support Specialist Disability Accommodation (SDA) design category and the Livable Housing Australia 'Platinum' performance level.
Below you can find the 2018/19 NDIS Short Term Accommodation (STA) price guide, this price guide is our benchmark for service packages based on NDIS STA requirements for the given support ration and including all expenses in a 24 hour period including assistance with daily personal activities, accommodation, meals and select negotiated activities. Transport support services, consumables, social and community participation facilitation, rehabilitation services, transition care and hospital in the home packages may be added modularly to these core benchmarks. Accommodation only and in-residence carer accommodation packages are available subject to facility demand.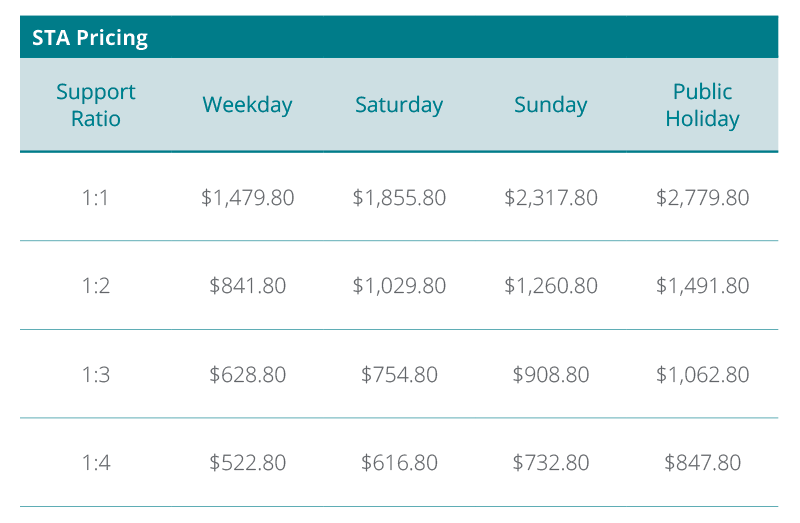 Scalable Development
Designed by an award-winning architect and registered Livable Housing Australia (LHA) design guideline assessor; a market leader in the design of mixed-use developments, aged care, specialist disability, livable housing and universal design in the Asia-Pacific region.
Stage 1:
Five freestanding two-bedroom dwellings designed to incorporate a high level of physical access provision for people with significant physical impairment and requiring very high levels of support. The dwellings will satisfy requirements for the High Physical Support SDA design category and the Livable Housing Australia 'Platinum' performance level.
On-site caretaker's, nurse, administration and student facilities located in a retained repurposed 'Old Queenslander'. Hydrotherapy pool and communal areas designed for accessibility.
Stage 2:
10 Platinum Level SDA units, on-site rehabilitation gym and additional nurse and residential care facilities across the combined 1.13 acre site with three street frontage for ease of access.
Conveniently Located
80 Abbott St, Oonoonba QLD 4811
10 min to the Townsville Hospital public tertiary care hospital.

8 min to the Mater Private Hospital.

5 min to Alliance Rehabilitation's Community Based Rehabilitation Clinic.

3 min to two GP Medical Centres, Dentist and Pharmacy.
3 min to Woolworths, Kmart, Bunnings and 24-hour BP restaurant

3 min to restaurants and convenience stores at Idalia Precinct and
Fairfield Central.

30 metres to bistro and takeaway

200 metres to Oonoonba Shops: groceries, bakery, takeaway and post office.
Flexible
From independent living solutions through to high level assisted supports, including at home rehabilitation services Alliance Rehabilitation's SDHA facility tailors services to meet the needs of individual clients.
Services are tailored to suit each individual's need. The service can cater for those desiring a high level of independence and privacy to those requiring a high levels of support services. Modular packages start from base accommodation, with further services added on demand.
All dwellings are fully furnished with the comforts expected of serviced accommodation and complete with ceiling track hoist systems connecting key locations, internet, medical alert systems, intercoms, hygiene stations and emergency power solutions.
Alliance Rehabilitation is proud to provide services under:
NDIS

NIISQ

Private Health & WorkCover

Defence Health and DVA

Community Based Rehabilitation Service (CBRS)

GP Management Plans (GPMP) & Team Care Arrangements (TCA)
Alliance Rehabilitation's Health Services in the Townsville and NQ community:
Physiotherapy

Psychology

Neuropsychology

Social Work

Speech Pathology

Occupational Therapy

Exercise Physiology

Dietetics and Nutrition

Diabetes Education

Nursing

GP

Health Economics
Contact Us Today
For further information on Short-Term Specialist Disability & Health Accommodation conact us today.