A Capacity building Therapy Program
Overview
This is a clinically supervised one-hour group session open to all capabilities and all ages. Supported fishing groups assists participants requiring support to experience the joy of fishing whilst working on their participation or therapeutic goals.
Clinical Objectives
This program places an emphasis on providing safe, fun, engaging activities that ensure maximum participation from all participants, regardless of their level of ability. Each participant is encouraged to work on their own goal be it social participation and skills, planning and self-management or balance and mobility.
Requirements
Support person required for anyone not completely independent with mobility.
An active NDIS plan with IDL funding.
NDIS participants are required to have an initial assessment before commencing and a review after every 10 sessions.
Join in the fun
Location: 139 Boundary St, Railway Estate
Activity Cost: $15 Session Fee
(+ $140 Initial Therapy Assessment
for NDIS participants)
Booking: reception@alliancerehab.com.au
Enquiries: 07 4772 1219
Upcoming Fishing Groups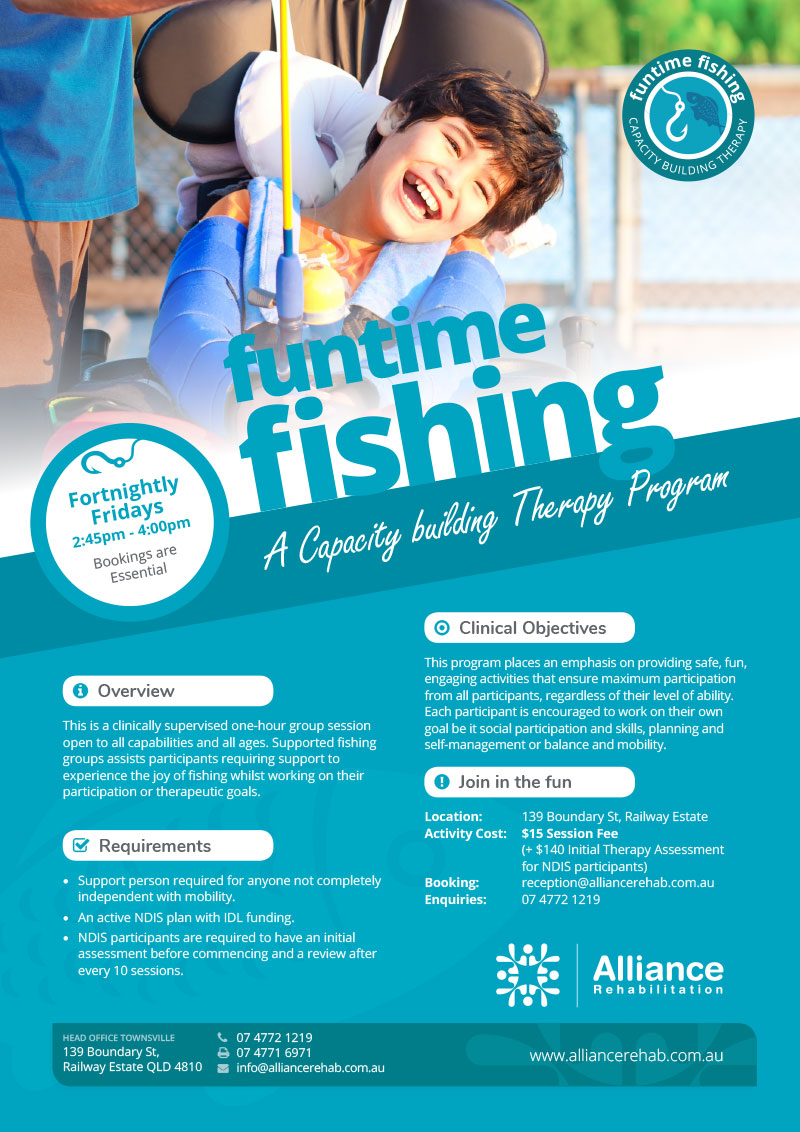 FAQs
What level of ability do you cater for?
We can cater for all levels of independence however if the participant needs a support worker, then we would require that support worker to be present.
What ages are these suitable for?
These are all-ages events for this trial run however this is likely to change down the track.
Is there a group limit?
Not at this stage, we are reasonably flexible and can add more clinical staff as required. Groups will have a one clinician for every three participants plus Allied Health Assistants.
What NDIS funding code does this fall under?
These groups are designed for Capacity Building, Daily Living – Improved Daily Living Skills (15_052_0128_1_3)
Do I need an NDIS plan?
Yes you do need an active NDIS plan with IDL funding. If you are new to Alliance Rehabilitation, you will also require an initial assessment and a service agreement prior to the group activity. Contact our team on reception@alliancerehab.com.au or call 07 4772 1219 for assistance.
Our NDIS Group team
To see all our full interdisciplinary health team, click here 
If you have any NDIS plan or service agreement questions I'm here to assist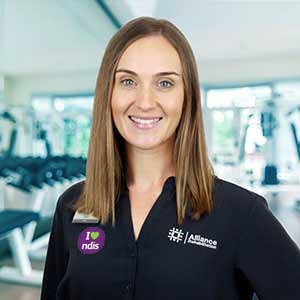 Carni,

NDIS Coordinator
.
I enjoy running the weekly Hydrotherapy groups and more than happy to discuss your individual requirements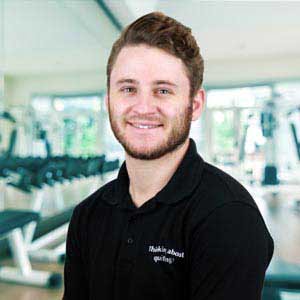 Declan,

Physiotherapist
I'm super excited to start some new movement to music sessions – look forward to meeting you all!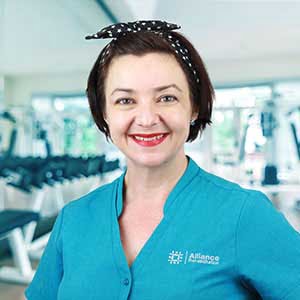 Karen,

Clinical Planner & Dance Teacher
.
We have a dedicated occupational therapy kitchen ready for the next clinical cooking session.
Kate,

Occupational Therapist
To make/change a booking, further information on our services and current group programs.